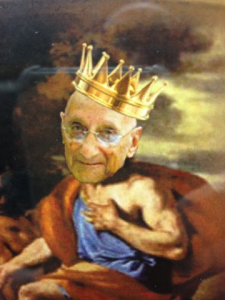 Some explanation is necessary; I and Tom Lippens, our new Sales Associate, found ourselves at the SPIE sponsored Photonics West meeting and exhibit at the Moscone center in San Francisco two weeks ago. We had our usual table-top display covered with examples of our Laser Gold plated stuff and of course our gold plated pennies (for those of you unfamiliar with the acronym, SPIE, it stood for, "The  Society of Photo Optical Instrumentation Engineers", fortunately, an appellation that has not been used for many years).
This trade show was a great success with some 1,500 exhibitors and more than 22,000 visitors. I have been an exhibitor for some thirty-five years and remember when SPIE was lucky enough to have sold 100 booths.
On the morning of the last day of every show, we get an invitation to the Exhibitors Breakfast at which we hear some boring speeches about the state of the industry, potential market forecasts, etc. But after all, a free breakfast is a free breakfast.
It was raining that morning and getting a cab to the breakfast site in the Convention Hall was problematical. Tom suggested that I try out a new app called UBER with which you can locate transportation in the form of a limo or a taxi using your cell phone. They price by demand and because of the rain I expected to pay a few dollars more than our usual eight dollar cab ride. It was 30 dollars more, but after all, it was a free breakfast.
As we arrived at Moscone  Center, about a half-hour late, my cell phone went off with the office ring. It was Michele, my trusted assistant, frantically wondering if I was going to the breakfast. Someone on the SPIE Staff had called her with that same inquiry, but I couldn't figured out why either of them would care.
On my third cup of coffee I found out.  It seems the Staff of the SPIE trade shows were  honoring me with the aforementioned,Midas Award.  Next thing I hear is my name being called out by Eugene Arthers, the Head Guy who is up on the stage. Gene has probably been doing these shows almost as long I have.
Anyway, there I am, standing beside him as he hands me my Plaque, cameras clicking, flash bulbs flashing.  Just like in the movies.
I quote:  "For Many, Many Years of Exemplary and Distinguished Gold-Coated Exorbitance and Bemazement". (sic)
I expressed my gratitude to the presenters, then I grabbed the microphone and, instead of  addressing the three or four-hundred people in the room with my standard wisecrack that I use every time I enter a crowded elevator, "The reason I called you all here this morning…..", I said something dumb, "If I had any idea I would be up here this morning, I wouldn't have worn blue jeans." Brilliant!
The crowd was friendly,however, and my short speech got polite applause and getting back to my table through the sea of congratulatory hand-shakes made me feel like Obama pushing his way thru the sea of Congressmen to give his State of the Union speech.
Seriously, I was quite moved to get this very un-official award from the Staff of SPIE, a competent and wonderful group of people that I have been privileged to know and work with for all these years.