Quality assurance at Epner can be thought of as two separate but complimentary concepts: Quality Facts and Quality Philosophy.
The facts list the tools that make the philosophy happen and lists the certifications we have earned. In 2002 the company received its ISO 9002 Certification, and holds quality certifications from all the major aerospace contractors.
The philosophy is backed up by the tools and instruments that first, verify that the plating baths are in tolerance and second that the customers specs have been exactly met.
That said, without the trained, conscientious team of some forty dedicated employees, those wonderful tools are worthless.
Quality Facts
Epner is NADCAP Certified – Nadcap used to be an acronym NADCAP (National Aerospace and Defense Contractors Accreditation Program) but was changed to Nadcap in recognition of the internationalization of the program. It is the leading, worldwide cooperative program of major companies designed to manage a cost effective consensus approach to special processes and products and provide continual improvement within the aerospace industry.
Epner is an ISO 9002 certified supplier
Epner supplies PPAP documentation to two major automotive manufacturers
Of course Mil-I-45208…and all major aerospace contractors
The following are some of the instruments and tools that, along with the dedication and passion for plating of its personnel, bring Epner Technology's quality philosophy to life.
Perkin-Elmer Spectrophotometer
With its integrating sphere attachment, the Lambda 750 is the heart of Laser Gold quality maintenance. It measures total infrared reflectivity (i.e. specular and diffuse) in the range of from 700nm to 2500nm and is calibrated to the NIST Standard 2011.
Click here for more information on PerkinElmer products.
Click here for information on X-Ray Fluorescence.
Atomic Absorption Spectrophotometer Model Varian AA110
A key to maintaining each plating and prep line constituents upper and lower control limits is the Atomic Absorption Spectrophotometer. Able to measure a bath impurity down to one part-per-billion, the AA is at the heart of Epner's process control discipline.
Fischerscope X-Ray XDL 230,
Fisher Scope X-Ray Fluorescence,
Twin City X-Ray Fluorescence
All XRF units can make non-contact thickness measurements and create statistical data. The Fisher Scope System XDL-XYMZ is unique in its ability to measure both individual and multiple layers of plating concurrently. At Epner, two XRF units are kept busy all day verifying that the customer's specification is exactly met.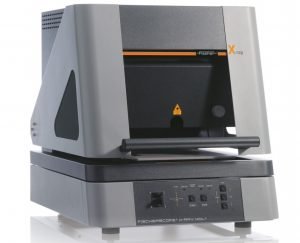 https://www.fischer-technology.com/fileadmin/documents/tds/EN/TDS_XDL2xx_952-062_en.pdf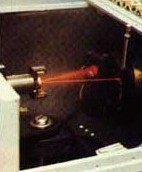 Custom Helium-Neon Laser Test Position
The helium-neon laser test is used at ETI's quality control lab to measure both reflectivity and optical shape of missile guidance beacon reflectors.
Used to certify more than 700,000 Optical Guidance Beacons for the Hughes Aircraft TOW Missile. This small die cast aluminum reflector was nickel and LaserGold plated and then passed through this HeNe Laser "go-nogo" gauge.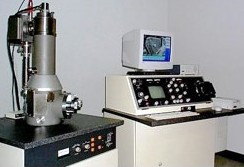 AmRay Model 1000 Scanning Electron Microscope
An invaluable tool for characterization of surface morphology on the Laser Gold and LaserBlack deposits. This microscope is also extremely useful for defect analysis.

Zygo Laser Micrometer
Purchased originally to certify the diameter on some 13 million infrared lightpipes, a critical part of the Gillette Ear Thermometer, the Zygo "mike" has had numerous other product applications.

Unitron Binocular Metallograph
This tool is used to read the extremely thin layers of plating that have been microsectioned and optically polished. Made virtually obsolete by the XRF and the SEM it is still useful as the referee instrument for thickness determination.
---

Process Control
Epner Technology's quality philosophy is driven by a deep commitment to process control. It's one thing to develop a process that will produce good parts…quite another to produce those parts day in and day out. Tight process control makes it happen!
---

ISO 9001:2008
ISO 9000 is a family of standards for quality management systems. ISO 9000 is maintained by ISO, the International Organization for Standardization and is administered by accreditation and certification bodies. The rules are updated, the times and changes in the requirements for quality, motivate change. Recently, on November 15, 2008, changes have been made to meet the requirements of ISO 9001.
---

Nadcap
Nadcap (formerly NADCAP, the National Aerospace and Defense Contractors Accreditation Program) is a global cooperative standard-setting program for aerospace engineering, defense and related industries.
---

ITAR/EAR Registered
Epner is registered by the United States Department of State to manufacture, export, or temporarily import defense articles and/or provide defense services as described in the International Traffic in Arms Regulations (ITAR).
Epner is also in compliance with the United States Department of Commerce, Bureau of Industry and Security, Export Administration Regulations (EAR) for export of EAR components.
Read More
---

NIST
Epner Technology has taken part in a specialized study of infrared reflectivity organized by the NIST's Physics Laboratory, Optical Technology Division, which performed an Intercomparison Calibration Study of near-normal diffuse and specular reflectance measurements amongst twenty DoD and Contractor Laboratories. Epner Technology supplied NIST with the twenty Laser Gold plated standard mirrors used in this prestigious study.
Read More
---

Contractor Approvals
Epner Technology currently holds quality approvals from numerous divisions of the nation's top aerospace & defense industry's prime contractors.
Read More