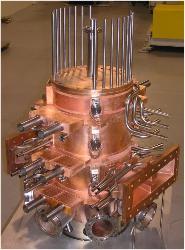 MIL-C-14550
AMS-2418
ASTM-B-734
APPLICATIONS
DIE CASTINGS
STEEL PARTS
PRE-PLATE FOR ACID COPPER
STEEL WIRE-ELECTRICAL CONDUCTIVITY
DRAWING LUBRICANT
STOP-OFF FOR CASE HARDENING
The largest single application for cyanide copper is plating of zinc die castings. The conventional plating steps include a base coat of copper followed by coats of nickel and chromium.
Plating of steel parts with cyanide copper as an undercoat for nickel and chromium probably represents an almost equally important application. Properties such as good coverage, high throwing power, and ease of buffing the deposit to obtain a smooth, highly reflective finish are the major reasons for selecting cyanide copper plating for this application.
Copper is also plated from cyanide baths on steel parts as an undercoat prior to plating copper from acid solutions. The reasons for using cyanide copper as a pre-plate are to obtain good adhesion of copper and to protect the steel from attack by the acidic copper sulfate baths.
A relatively new application is the plating of thick coatings of copper, up to 0.060 inch, on steel wire and rod towers. Cyanide copper is also plated on stainless and other types of wire to serve as a lubricant for drawing.
Case hardening consists of treating steel parts in molten salt baths containing cyanide to enrich the outer surface or skin with carbon and nitrogen in order to obtain hardness and wear resistance. When it is desired to confine case hardening to selected surfaces, all other surfaces are plated with copper to prevent carburization. After carburizing, the stop-off copper is normally dissolved.