Gold On Exotic Substrates
At Epner Technology we receive many requests to plate on a multitude of exotic substances. The surfaces often require special processing procedures to ensure a successful finish.
Epner has a reputatiion for blister-free plating on many of the more unusual or difficult metals, permitting them for example, to withstand high brazing or soldering temperatures. Titanium, Molybdenum, Tungsten, Magnesium, AlBeMet and Beryllium are some of the more difficult substrates routinely handled by Epner's thoroughly trained platers.
From different grades of Titanium including Commercially Pure Titanium Grade 1 to the alloys such as Grades 6 Ti5Al2.5Sn and Grade 9 Ti3Al2.5V to the most common commercially available Titanium alloy Grade 6 Ti6Al4V. Our coatings are on Titanium components in space such as the European Space Agencies Bepi Colombo mission to Mercury and many other space based hardware orbiting the Earth.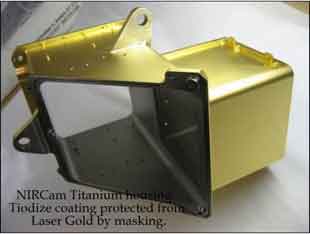 On Aluminum we coat the common most versatile 6000 series alloys to the more forgiving to machinist but more difficult to achieve good adhesion 2000 series alloys. We also coat the Ultapure Aluminum in the 1000 series alloy. The Aluminum Silicon 4000 series used in brazing alloys is also successfully plated at Epner Technology.
To Proprietary alloys of Beryllium, Kovar, Invar, Alloy 52 and other hardened metals, Epner has developed and tested processes to successfully plate onto these substrates with good adhesion.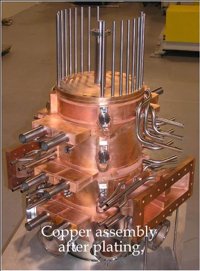 Epner is also able to plate onto Copper alloyed with Berylium, Telurium, Zirconium and even on Glidcop. Glidcop is a copper-based metal matrix composite alloy mixed with small amounts of aluminum oxide ceramic particles. It's known to protect the metal against radiation damage as well as preserving the metal's strength at high temperatures.
Epner has also successfully plated on challenging materials such as tungsten, niobium, and tantalum molybdenum and its alloys, copper moly, tungsten-moly. This includes the challenge of plating on mixed materials of moly and aluminum in the same part. Even when a process is not in place for a particular substrate, Epner can quickly develop one with only a small test panel of that alloy. We are able to offer processes with or without a nickel strike depending on customer specifications. We frequently receive inquiries for both large and small objects that require very specific coatings.
With the rising growth industry of non-metallic substrates, solutions for plating onto these substrates is highly sought after. Design requirements have become stricter and more limited for production parts, lightweight non-metallic parts have caught a lot of attention as research and development for low mass and high strength keeps improving. With those parts, gold plating on those parts can ease a lot of project development requirements by providing a strong lightweight part with the properties of gold on the surface. The booming industry of these parts has allowed us to gain experience on gold plating newly developed materials to satisfy our customer's requirements. This includes non-metallic substrates, various grades of Carbon Fiber, 3D printed and Injection Molded Plastics, Bone, Plaster, Resin, Epoxy, Bondo, or just about anything besides Zinc. Even when it hasn't been done before, we have a high degree of confidence that we can develop a solution.