In some 50 years of sales calls, one remarkable day stands alone.  It was a day of incredible contrasts between a morning call at the Electro-Motive works of General Motors, in La Grange, Illinois, where they build diesel-electric locomotives; and an afternoon call, the same day, with the MacDonnell-Douglas plant in St. Louis, where they build F-15 and F-18 fighter jets!
It all happened more than 30 years ago, and the memory of that day was triggered by a plating inquiry we received last week from a Boeing R&D engineer at that same St. Louis facility that was long since taken over by Boeing.
In the GM plant, we were installing Laser Gold plated reflectors on a bench that used IR energy to cure the "varnish" coating on huge solid copper armatures, the heart of the drive motors.  The armatures, some two feet in diameter, rotated slowly, as though on a spit.  Our Laser Gold improved their process by replacing stainless steel reflectors, thereby enhancing the shorter IR wavelengths, heating the copper from the inside out and speeding the cure process.  The 30% power reduction was a plus.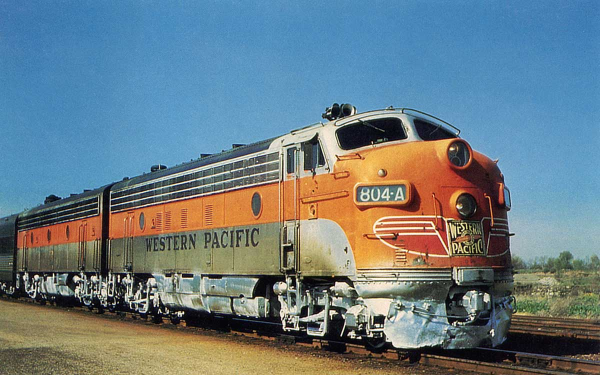 The Western Pacific Railroad's #804-A. Known as the "California Zephyr." The train is powered by 2 General Motors, Electro-Motive Division "F7" diesel-electric locomotives.  Photo courtesy of Viewliner Ltd.
Later that morning, I left a clanging, raucous, wood-block paved floor, "smokestack" factory right out of the 1940s, for the short flight from O'Hare to St. Louis' Lambert Field.
The McDonnell Douglas facility was on the far side of the airport, and I entered a huge, spotless building that seemed to stretch for acres.  I looked down a row of F-15s being assembled in a hospital-like atmosphere, and the incredible contrast to that morning at a locomotive factory, really hit home.
McDonnell Douglas developed a technology called Superplastic Forming.  It shaped pre-heated titanium sheets in a 400-ton press (see photo below).  As originally designed, a worker in an aluminum coated "fire suit" would rush the pre-heated sheet of titanium from an electric furnace to the forming press (also electrically heated).  The power costs here were enormous since both units were rarely shut down.
This cumbersome procedure had been re-designed and greatly improved.  I was there to possibly further improve on their improvement:
First, their improvement:
They replaced the electric furnace and its heat-protected worker, with an array of some 250KW of infrared quartz-halogen lamps with a water-cooled aluminum reflector behind them.  The lamp array formed the upper half of the press.  The lower half contained the female die and after pre-heating the press with the lamps, a sheet of titanium was inserted.  Then the upper half was closed onto an "O-ring" seal and the lamps powered up again.  With the titanium heated to plasticity in this enclosed chamber, pressurized argon gas was injected into the press, forcing the softened sheet of metal into the lower die.
McDonnell Douglas had actually imitated in metal, a process that was ubiquitous for shaping sheets of plastic; a process known as blow-molding!
Our improvment:
Because maintenance of the reflectors took the press out of service for one week out of every month, the impact on production was obvious.  By Laser Gold plating the reflector array, the time between overhaul (TBO), became one week out of every year!  Up to that time, these 2×4 foot reflectors were the largest parts we had ever plated with our highly reflective hard gold.
The 30% power reduction that Laser Gold's 98% reflectivity achieved, also had a dramatic effect on lamp life.
As further contrast to my two sales calls, today, we process huge (13 feet high) chemical reaction vessels, applying nearly a kilo of Laser Gold on the interior surfaces!

Source: New feed