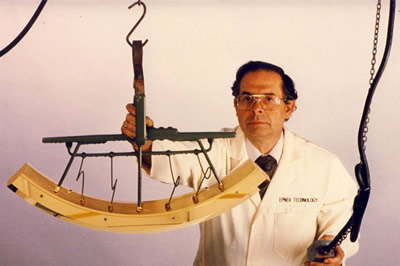 Stephen Candiloro, Sr. Epner's late Director of R&D is holding a quadrant of a four-foot diameter "Beam Clipper" on the giant "Star Wars" laser, Alpha.
The ring was fabricated in 1987 under the leadership of Jack Dini at Lawrence Livermore Labs for Northrup Grumman, then TRW.
The components that make up this device had an electro-formed copper "covering" over grooved cooling passages that were filled with wax and made conductive with colloidal silver prior to the heavy copper plating.
The assembled "ring" was given an optical reflective surface on Livermore's Large Optical Diamond Turning Machine. (LODM). When plated with the ultra-high reflective, Laser Gold, and the cooling passages where wax had been, now filled with water, the Beam Clipper was well equipt to withstand stray energy from one of the world's most powerful lasers.
Epner Technology was awarded TRW's "Outstanding Supplier" designation for our performance on this program; the first plating company so honored.