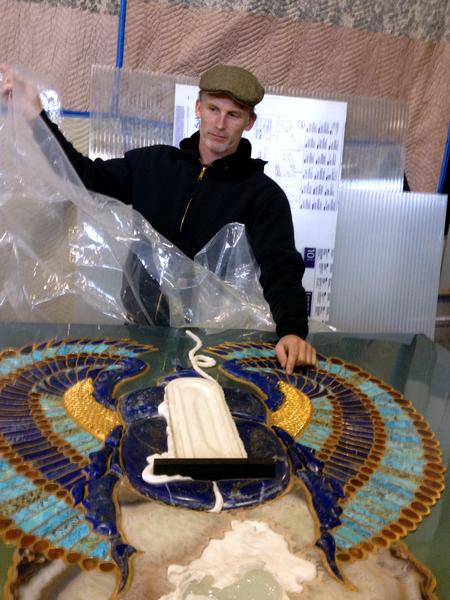 Matthew Barney's Laser Gold plated Scarab (insert): On May 18th 2008, Matthew Barney and Jonathan Bepler performed REN at a Chrysler dealership in suburban Los Angeles. REN was the first act in a seven-act collaborative performance, based on Norman Mailer's novel, Ancient Evenings. Click Here to see a video of the exhibition.
"Matthew Barney was born on March 25, 1967 in San Francisco, California. He has one sibling, an older sister named Tracy. When Barney was 6, his father Robert got a job running the food services at Boise State University and the family moved to Idaho. When Barney was 12, his parents divorced and his mother Marsha Gibney (an abstract painter) moved to New York. Barney and his sister remained with his father in Boise, but he frequently visited his mother in New York, where he was exposed to contemporary art.
In high school, Barney played on the wrestling and football teams (the football team played their games at Bronco Stadium, the setting of Cremaster 1). He gave the graduation speech (drawing parallels between the travels of life and the path of the sperm) for the class of 1985 at Capital High School.
The summer after graduation, Barney answered an ad for a modeling job. He was spotted by a model scout and paid his way through college working for the Click modeling agency (clients included Ralph Lauren and J. Crew — if you have pics please email them to us!!!). Modeling meant that he had to abandon football, but he frequently references athletics in his artwork.
Barney left Boise to attended college at Yale University in New Haven, Connecticut. He entered as a premed student, thinking he would go into plastic surgery. However, after two semesters he switched from premed to the art department. Barney's dedication and originality were recognized by other students at Yale, who convinced the school to allow Barney to participate in the program of its highly-regarded graduate School of Art while still an undergraduate.
His senior thesis at Yale was a video called "Field Dressing", which he shot and exhibited in two rooms of the Payne Whitney Gymnasium at Yale. This Vaseline-slicked video contained the seeds of ideas that would later be explored in the Cremaster Cycle.
Barney graduated from Yale in 1989 and moved to New York. His first studio was in Brooklyn, but he soon moved into a studio on Leroy street that he shared with Michael Rees, an artist he had met at Yale. In 1990, his "Field Dressing" video was included in a group exhibition at the Althea Viafora gallery in New York. Clarissa Dalrymple, director of the Petersburg Galley, saw the show and offered Barney a solo exhibition. Unfortunately, the gallery closed before Barney's show opened. However, Barney met his first wife, Mary Farley, at the Petersburg Gallery.
The gallery-less Dalrymple recommended Barney to her friend art dealer Barbara Gladstone. Gladstone visited Barney's studio and was impressed by the drawings and sculpture she saw there. She was unable to schedule an exhibition for Barney until the fall of 1991, but her son Stuart Regen, an art dealer in Los Angeles, held a show of Barney's work at his Regen Projects gallery in May 1991. The show attracted a lot of attention in the art world, and Artforum put Barney on the cover of their summer issue.
The accolades continued to mount for Barney's work. In October, he had a show at Gladstone's gallery in New York and was soon offered exhibitions at the San Francisco Museum of Modern Art, Documenta IX, the Whitney Biennial, and the Venice Biennale, where he won the prestigious Europa 2000 prize.
In 1994, Barney released Cremaster 4, the first film in the Cremaster Cycle. The film was made on a tiny $200,000 budget, and practically all of the footage shot was included in the final edit. Barney continued to work on the Cremaster Cycle throughout the 90's, his productions becoming more lavish as he was able to work with larger and larger budgets. The final film in the series, Cremaster 3, premiered at the Zeigfield theater in New York in 2002.
By August 2001, Barney was publicly seen dating the Icelandic pop star Bjork, and he and his wife Mary Farley soon divorced. On October 3, 2002, Barney and Bjork had a daughter, Isadora (Bjork says her name is Isadora because, "she is adorable"). In 2006, Barney released Drawing Restraint 9, a film starring himself and Bjork as a pair of lovers united onboard a whaling ship.
Today, Matthew Barney lives across the Hudson from Manhattan in a house formerly owned by Noel Coward, although his artwork requires him to travel a great deal. He has studios on West 13th Street in Manhattan's Meatpacking District and in Long Island City, Queens. A small staff, most of whom have worked with him for years, assists him with his projects. Barney has won numerous awards, including the Europa 2000 Prize at the 1993 Venice Biennale, the Hugo Boss Award, the Glen Dimplex Award, and the Kaiser Ring Award." (http://cremasterfanatic.com/Biography.html)