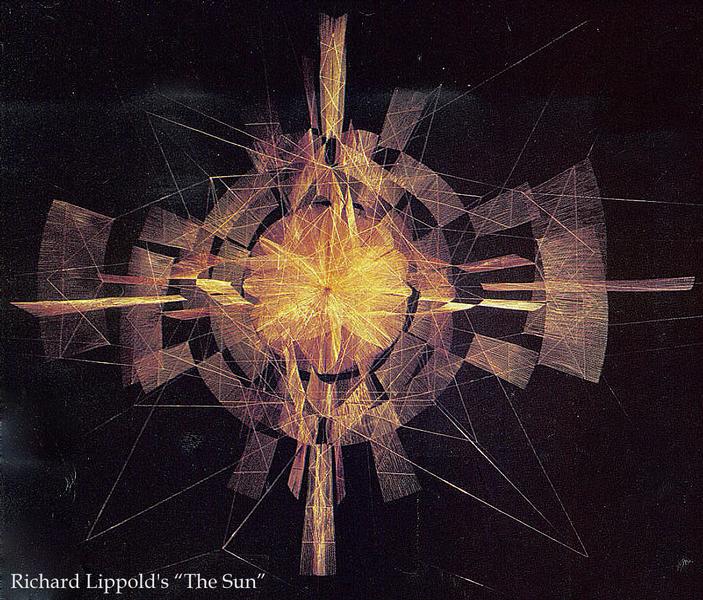 Richard Lippold was one of the great sculptors of the 20th century. "The Sun (above)," is a wire construction produced more than fifty years ago and was the first work of a living artist ever commission by the Metropolitan Museum of Art. It was loaned for the opening of the Air and Space Museum in Washington where, against walls of deep brown, it was truly breathtaking. It was returned to the Metropolitan Museum in New York when the original wire had seriously corroded.
The Metropolitan Museum conservators, along with the artist, consulted with Epner Technology as to the options available to restore this work usingplating techniques.
The original brass wire was plated (not by Epner) but metallographic sections revealed extremely thin deposits which permitted serious corrosion.
The relationship with Lippold and Epner Technology goes back to 1962. He had just finished hanging a large work in the Symphony Hall at Lincoln Center for the Performing Arts and had a commission to do another large project for the Jones Symphony Hall in Houston, Texas. We were asked to gold plate some 100,000 feet of stainless steel fine cable. His required four week delivery seemed impossible, but through some clever rack designed by my late brother, Gerald, we made the deadline.
That was the beginning of a long and treasured personal and business relationship with the artist that lasted till his death in 2003 at age 87.
Other Lippold works can be seen here in New York in the lobby of Avery Fisher Hall, The Four Seasons Restaurant, and the Vanderbilt Avenue entrance of the former Pan Am building.
Lippold's 'Sun' Back at Metropolitan (The New York Times)
Ex Stasis (1988)