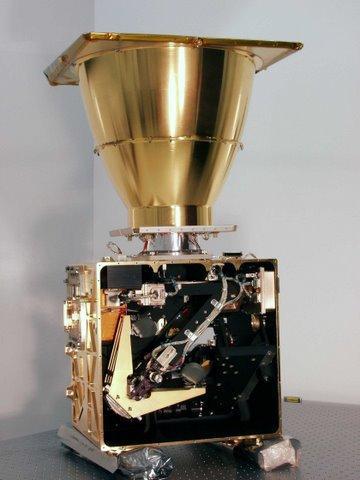 This compound parabolic concentrator is the "Earth shield" for a cryoradiator. The Earth shield prevents the cold (cryogenic) radiator from seeing the warm Earth. The mirror-like Laser Gold finish reflects radiated Earth energy away from the cold stage, allowing the cold radiator to operate at temperatures as low as 75K in low Earth orbit. The cryoradiator is used to cool a two-color infrared detector.
The cryoradiator (with Earth Shield) is part of the Atmospheric Chemistry Experiment (ACE) instrument, which flew in 2003. The ACE instrument is a Fourier Transform Spectrometer that monitors Ozone and other gasses in the Polar Regions of Earth's upper atmosphere.
Ball Aerospace is the manufacturer of the cryoradiator.