A Message from David Epner, President of Epner Technology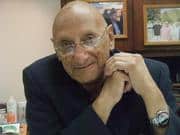 We are a third-generation family-owned high-tech engineering plating company. Our proprietary Laser Gold and Laser Black optical coatings are world renowned.  But as you can see listed in the column on the right, we are also known as a specification plating service for aerospace companies, contract machine shops that serve them, and and other high-tech applications around the world.  Epner Technolgy is dedicated to making you look smarter than we both know you really are. See our complete Mission Statement.
Laser Gold: From Nasa's MMS Spacecraft… to The Oscars
Epner Technology's proprietary 24 karat gold process, Laser Gold, achieves the theoretical IR reflectivity and ultra-low emissivity of a pure gold. With a Knoop hardness of almost 200, Laser Gold is three times harder than any other pure gold plating process. Specified by NASA for thermal control of instruments, Laser Gold is aboard virtually every spacecraft from the earliest GOES weather satellites to the infrared cameras on the Hubble and the James Webb Space Telescope.
In 2016, the Motion Picture Academy, for the first time, chose Laser Gold to adorn one of the most recognized symbols of quality in the world… the Oscars!